7:23 PM, Tuesday, October 30th, 2001:

Now, the question is will I be happy with this nasty fan when it's all said and done.

I just got word from Charlotte that 1 of the 4 Aspen judges will be at The Comedy Store show on the 12th, and if she likes it will set up the callback performance with the other judges at the HBO Workspace within DAYS, as they will be picking the 4 finalist one-man shows for Aspen by November 30th.

Gulp.

I knew this day would come, but when you can lay out it with such exactness it really smacks you in the head. And it's 2 auditions really. The one for the 1 judge, and then the "callback" for all 4. WHEW. And there it is. One month from today, absolute elation, or utter astonishment.

It is a strange position to be in really. The brink of such an amazingly detailed and realized goal. It was early February that I wrote Entry #108 "Direction Found: North", where I introduced Charlotte into this spectacle that is "The Journey" and explained that Aspen was now the goal. From that moment on, every second of my life has been spent getting there. Now the stage is officially set. I kick ass at The Comedy Store, then blow them away at the HBO Television Workspace and I will be on my way to the Aspen Comedy Festival in late February. Just like that.

Jesus if this isn't exactly what I've been preparing for all year, yet it still is overwhelming as HELL. Not only do I have direction, not only do I have a path...but I have all the stops laid out, and an itinerary once I get there. This fact is just now hitting me. Something I've really wanted all my life, is now no longer in the air. This is how it will happen. If you only "skimmed" over the entries this year, you're probably asking yourself why is Aspen such a big deal...
If you win the Aspen Comedy Festival, you just proved yourself in the center of the entertainment community. EVERY industry person with any power whatsoever is at Aspen. Development deals are made on your standing at this event alone. It's absolutely huge. So much show that they pick 4, yes only 4 one-man shows out of thousands and thousands of taped from all over the world in a span of ONE YEAR. There's a few other categories, as well I think there's 36 different stand-up categories. But, I can truly only be considered in one. There's an outside chance they'd put me in "alternative act" since my show just feels like 5 people. That'd piss me off though. It's a one-man show, period. Oh well, Aspen's Aspen...like I would really bitch.
You may also be asking yourself why the hell I think I'll be 1 of only 4 acts chosen, when I've never done anything in this town. You know I wonder that sometimes myself. But when it comes down to it, the judges only care about what's best for their festival, And "Adam & The Trinitrons" is the best one man show around, period. I know that's cocky, but I believe it with absolutely all my heart. As Charlotte said a month ago today, "If this doesn't win Best Show at Aspen, I'll eat my hat".
Then again, I've never seen her wear a hat...heh. So here's the first step, the flyer for the show a week from Monday: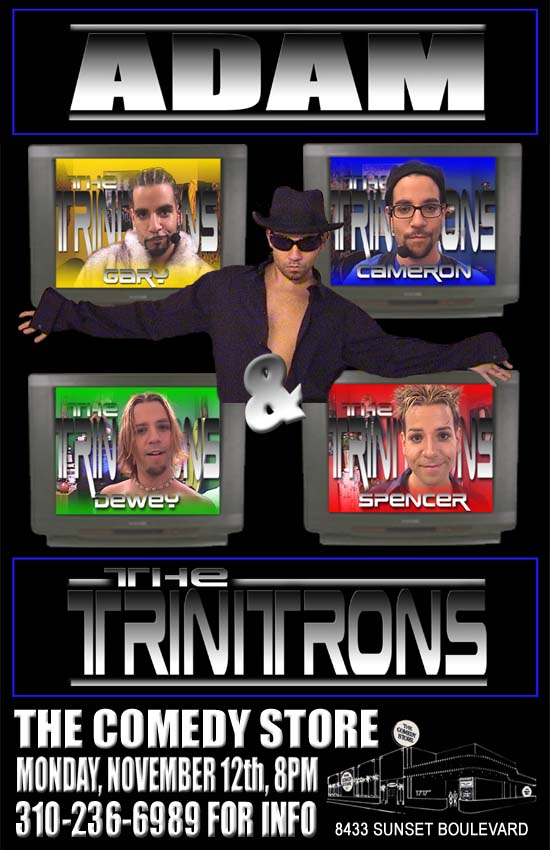 This poster will be framed and up in Charlotte's office, as well as in my apartment. It just looks freakin' cool. It's just one of those things you want to save. I think she just wants an easy way to describe her client - heh. Pointing is a lot easier than trying to explain 4tvs. Then again, the Aspen judge Charlotte talked to today actually asked if all of us would be there on the 12th. So I guess the flyer doesn't always help.

You may notice the "hat" on Adam. Another step on the way to "coolville" for Live Adam. Of course it's the doomed coolness. You should be struck with the urge to laugh just a bit over Adam knowing he will be put in his place before the night is over. God I love poking fun at myself. I love that I'm gonna be the quiet asshole in the crowd drinking a beer and snapping at people (literally), then I go onstage and people find out it was all staged. Heh. Ahh yes and Garrett Morris is now confirmed for opening my show on the 12th. That's great. There's also serious talk of Jim Carrey closing the night if you can believe it. Man, Jim Carrey would absolutely dig my show, too bad he'd NEVER be there that early. You never know though. At this rate, absolutely anything's possble.

Oh, and a pretty huge update on the Saget situation! I was right about him most likely seeing it live first. The Laugh Factory is actually going to book me on the next night that Bob does, so he will see it RIGHT THEN! Then, on top of THAT - they feel after the show he'll come upstairs to the offices and tape the bit for me on the spot!! Amazing, something I've thought of for so long, now has a solution I didn't even dream would happen. Incredible isn't it. We're thinking this date will be anywhere between November 28th, and December 13th.

| | |
| --- | --- |
| So basically, in about one month, I could be taping Bob Saget for a small piece in my show that's going to Aspen. Mind boggling isn't it. That will of course make the new ending obsolete, but oh well. As I've said before, we don't NEED Bob, but he simply makes it a better show. It's a funnier ending with him. And because of that, I'll go to my grave trying to get him to help. As it stands, it seems I'll only need to go about 20 minutes away. | |

Man, what the hell must you all be thinking at home? Do you know what I wrote in my entry exactly one year ago?

Been a strange couple of days for me. Feel like I'm a total worthless piece of shit. And you? That's good.

Not totally worthless, it's just that now that HST is gone, and none of my other ventures have come

through yet...I ain't got a paycheck to show for myself. I can't believe it's November now. I'm gonna

hit the year mark out here and have a breakdown. I know it. LOL - I gotta make something happen in

these last 2 months. Something positive.

And you know what's even scarier? You think a year makes a lot of difference now? Read this at the end of October 2002...can't even FATHOM where I'll be.

I swear to GOD, I will sleep a total of 10 hours in November.

Adam